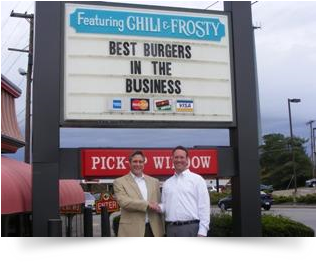 Primary Aim, LLC operates 43 stores in Ohio, West Virginia and Pennsylvania,
part of over 5,000 Wendy's Worldwide.
Tim and Ben Thompson received the ACES award for the improvements at the Maple Ave. restaurant in 2009. ACES stands for Awards for Community & Economic Success. The purpose of the program is to recognize and celebrate economic investment by businesses and organizations in Zanesville and Muskingum County.
Primary Aim, LLC. is a franchisee of Wendy's International, Inc. and assumes all liability for the content represented in this website. All representations made in this website are solely those of Primary Aim, LLC. and are not to be, under any circumstances, construed as endorsed by, or representation of, Wendy's International, Inc. The Wendy's International, Inc. corporate website can be accessed at www.wendys.com
Home | Locations | Join Our Team | Company Information | Community Activities | Customer Comments | Nutritional Information | Contact Us
Primary Aim, LLC, Privacy Policy
-Website designed by: WebChick.com-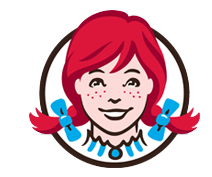 Columbus Division celebrates local Wendy's High School Heisman
state winner August 7, 2014 / Columbus Heisman

Franchisee Tim Thompson recently congratulated Wendy's High School Heisman Ohio state winner John Barba during a celebration at the Wendy's restaurant in Cambridge, Ohio. John is a graduate of Meadowbrook High School, and will be attending Capital University this fall. Thompson stated, "John is a 'five-star' student, athlete and individual who is very deserving of this recognition!"

Thank you to Thompson and his team for their continued support of the WHSH program!

Submitted by: Emily Paulsen, Columbus Division, Area 11